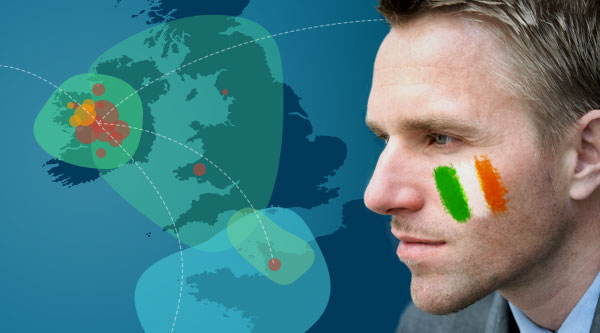 It was announced at Rootstech back in February that AncestryDNA are planning to launch a new Genetic Communities feature. See
this blog post from the Ancestry Insider
for details. I received a St Patrick's Day e-mail from AncestryDNA and it seems that the Communities feature is due to be launched at the end of March. The launch is conveniently timed to coincide with
Who Do You Think You Are? Live
which takes place in early April. Not all Ancestry customers have received the marketing e-mail and it seems to have been aimed at people in the UK and Ireland. According to the e-mail the "new Genetic Communities feature will map where your family may have lived across 19 different Irish areas, from Derry to Cork. But you're probably not 100% Irish - so we'll also identify the communities that you belong to around Britain and the rest of the world." The e-mail includes a link to this
landing page
which has a few additional details. .
I've been included in the beta-testing program for the new Communities feature but the version I currently I have on my account is not necessarily the finished product so I will report on this feature after the official launch. At present I'm in one community for Southern England but I suspect that there will be further refinements in due course.
In the meantime you can get a glimpse of some of the Irish Genetic Communities on
Mike Mulligan's Ancestry Special
, a special edition of the Irish TV programme
The Late Late Show
. The four guests, Maura Derrane, Eamon Dunphy, Jason Byrne and Michael Healy-Rae, were given their DNA results live on air by Mike Mulligan from AncestryDNA. The
programme is available on the RTE Player
until Sunday 17th April.
AncestryDNA have now published a
Genetic Communities White Paper
explaining the science behind the new feature, which is well worth a read. The AncestryDNA team have done a superb job explaining some quite complicated concepts in an easily understandable way.
If you want to learn more about the underlying research which led to the development of the Genetic Communities you can read the scientific paper
Clustering of 770,000 genomes reveals post-colonial population structure of North America Nature Communications
published in
Nature Communications
in February. The paper includes a 126-page Supplementary Discussion document which is an interesting read in its own right and includes lots of maps and some fascinating background information on migration patterns. If a lengthy scientific paper is not to your liking, Leah Larkin has written a
handy blog post providing a useful summary of the paper
.
It's interesting to note that AncestryDNA have filed
a series of patents
to protect their rights in this research.
AncestryDNA now also seem to be encouraging their customers to participate in research. This banner has just appeared on my Ancestry account.
When I click through I am taken to this page which encourages me to increase my level of participation in Ancestry research.
There is
a new Informed Consent form
for the Ancestry Human Diversity Project which was updated on 8th February 2017.
There is also what appears to be a new page on the
Ancestry Privacy Principles
, which serves as a gateway to all the privacy-related topics on the website. I was particularly interested to see this new page on
AncestryDNA Research and Collaboration
.
It is an individual decision whether or not to participate in research but whatever you decide make sure you read through all the forms in their entirety before making your decision.
See also the blog post from Judy Russell
Update in AncestryDNA research consent
.